Newstead Abbey on cultural heritage threatened list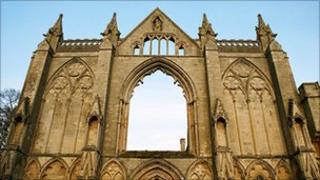 The ancestral home of Lord Byron has been named as one of the world's most threatened cultural heritage sites.
The New York-based World Monuments Watch said Newstead Abbey in Nottinghamshire was desperately in need of long-term maintenance.
Newstead Abbey is on a list of 67 of the world's most treasured sites which the organisation wants to be saved.
Other UK sites include Birmingham Central Library, Preston Bus Station and London's Southbank Centre.
Nottingham City Council recently reduced the building's opening hours because of budget cuts.
'Culture of care'
Dr Jonathan Foyle, from the World Monument Fund, said: "What we're concerned about is that we'd like to help generate a culture of care and involve the community.
"There are about three million people within an hour's drive of Newstead, it's so important, it's so reachable and it's also so beautiful.
"We'd like to help the council to come up with a plan to open it up and make it more financially sustainable."
The city council said it welcomed Newstead Abbey's inclusion on the World Monuments Watch list and was hopeful that it could lead to partnership opportunities.
The council said it was on course to reduce operating costs at the site from £600,000 to £300,000 and had introduced more events at the abbey to generate income.
Nigel Hawkins, head of culture and business management at Nottingham City Council, said: "What we are trying to do is use our money wisely to make sure we conserve the building."