Big Walkabout day of Nottinghamshire guided walks announced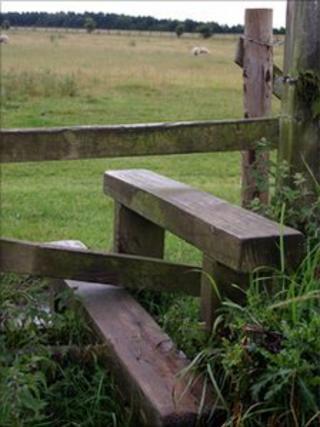 A free day of walks and tours is being held in Nottinghamshire on 9 October.
BBC Radio Nottingham's 'Big Walkabout' is a celebration of the huge range of guided walks available in the county.
The event includes walks in the countryside, at nature reserves, in the city centre and tours at well known attractions.
Breakfast presenter Andy Whittaker said: "Walking around is one of the best ways to discover more about where you live.
"Knowledgeable guides will really help to bring the walks alive.
"Best of all the Big Walkabout won't cost you anything."
The full list of free walks and tours available is below along with start times, directions and details of how to book, if required.
Guided walks and tours
Laxton Guided Tour
10:00 BST at Laxton Visitors Centre
Laxton farmer and historian Stuart Rose gives an insight into the way the strip farming system influenced the development of the village and how it is preserved today by modern farming methods. You'll see the three open fields after harvest, and visit the church. This walk begins with viewing a short introductory film in the visitor centre. The walk is approximately 5 miles (4 ½ hours). For more details, call 07939 228353 or 01777 871702.
A Walk Through Time and Victorian Nottingham
11:00 BST at the Nottingham Playhouse
A journey from the Nottingham Playhouse to the Castle Gatehouse looking at the history, the buildings and the characters of the area and how it was re-shaped in Victorian times. The walk is led by Civic Society guide Kevin Powell and takes about 1 1/2 to 2 hours.
A Walk In The Park
14:30 BST at Castle Gatehouse
A guided tour of the prestigious Park Estate, that will take you back to King Henry II's time at Nottingham Castle to how and why the area was developed in the 19th century. Led by Nottingham Civic Society guide Kurt Hatton, this walk starts from the Castle Gatehouse at 14:30 BST and will last approx 1.5 hours. No booking is required but if you want to find out more call 0115 9870 709.
Nottingham Playhouse Tour
Wellington Circus, Nottingham, NG1 5AF
There are four afternoon tours starting at 12:00 BST. These must be booked in advance please call 0115 941 9419 for more information.
Lace Market Heritage Trail Audio Tour
Available 10:30 to 15:00 BST
Collect headsets (deposit required) from the Galleries of Justice, Shire Hall, High Pavement, The Lace Market, Nottingham, NG1 1HN. This audio guide with Joanna Lumley will lead you through the stately streets of the Lace Market, where Victorian splendour sits neatly on top of a cave system from a much earlier time.
Nottingham Council House Guided Tour
10:00 to 16:00 BST at Smithy Row, Nottingham NG1 2DT
An introduction to one of Nottingham's best known buildings. You'll see the Council Chamber, the Sherriff's Rooms and the Lord Mayor's Apartments. You can book at the Civic Office on 0115 876 5657 or just turn up on the day.
Walk in the Woods - Clumber Park
12:00 BST at Clumber Park
The One Step Walkers invite you to join them for a walk in the woods. Going round Clumber Park, the South Lodge, Clumber Bridge and finishing off at the visitor's centre. Walkers of all ages welcome. For more information go to One Step Walkers.
Secret Nottinghamshire Walk
10:30 BST at the car park on Lambley Lane Recreation Ground, Gedling.
Nottinghamshire Ramblers Association's President Paddy Tipping will be leading a walk on land not normally open to the public. The walk of about 3 miles starts from the car park on the Lambley Lane Recreation Ground, Lambley Lane, Gedling at 10:30 BST.
This is an important site at the east of the Nottingham conurbation, as well as talking about how the site is naturally regenerating, establishing a good base for new plant and bird life, Paddy will explain how the site could be developed. There are exciting views down the Trent Valley from the pit top.
It is a chance to explore a secret part of Nottinghamshire.
Hidden Sneinton
12:30 BST outside BBC Radio Nottingham
Join BBC Radio Nottingham's John Holmes for a gentle walk around Sneinton. You will take in a nature reserve, see Colwick woods, discover a great mathematician and their windmill. As well as visit the birthplace of General Booth, founder of the Salvation Army. The walk will be steady, about two miles long, wear sensible shoes. To book a place on this walk please call 0115 955 0500. Limited places available.
Calverton Walk
10:30 BST at Upper Parliament Street, Calverton bus stop
Local walk by the Nottingham Ramblers, the walk is to Calverton through Woodborough, Lambley, Woodborough Park, Fox Wood and then back to Calverton it is 8 miles. Leaving by local bus from Upper Parliament Street and will return at about 4pm from Calverton. We are getting the 10:30 BST bus from Upper Parliament Street, Calverton bus stop, bring packed lunch and drinks, and wear sensible boots/shoes and waterproof coat. The ramble is suitable for most abilities, a couple of inclines, but it is 8 miles long so people have to bear that in mind. If you want to meet the group in Calverton or for more information please call 07969 517597.
Wollaton and University Park Walk
13:30 BST at Wollaton Park in the first car park near the main entrance
Chris Thompson from the Ramblers Association will lead this walk which lasts no more than two hours. It includes Wollaton park and gardens before crossing into University Park, entering the Millennium Garden and returning to end at the start point. No need to book.
Stonebridge City Farm Walk
11:00 - 16:00 BST at Stonebridge City Farm, Stonebridge Road, St. Ann's
Bird watch day at Stonebridge City Farm incorporates a walk around the farm identifying as many species as possible. More information from the farm on 0115 950 5113.
Attenborough Nature Trail
9:00 to 18:00 BST - Attenborough Nature Centre, just off the A6005 between Beeston and Long Eaton
This complex of flooded former gravel pits and islands provides 360 acres of exceptional habitat for a wide range of plants, birds and other wildlife. The Nature Reserve is nationally designated as a Site of Special Scientific Interest (SSSI). Visitors can follow one of the two signposted walking routes around the reserve. Leaflets of the route are available at the Nature centre.
Idle Valley Lakeside Stroll
From 10:00 until 16:00 BST - Idle Valley Nature Reserve, Tarmac entrance, North Road, Retford
This circular lakeside walk takes between 40 minutes to 1 hour to complete and is suitable for all users. Guided by a leaflet which you can download or collect from the Rural Learning Centre on site. The route includes a "Children's Trail" with 10 bronze posts along the trail for children to take rubbings from as they go around. If you're are using a SatNav or Routefinder to get to the reserve, use DN22 8SG and follow the signs.
Treswell Wood Nature Trail
Daylight hours - Treswell Wood between Grove and Treswell, three miles east of Retford
The nature trail starts at the main entrance to the wood which is one of the best examples of an ash/oak/maple wood in Nottinghamshire. Leaflets should be available on site, but certainly are available in advance by calling Nottinghamshire Wildlife Trust on 0115 958 8242.
Bunny Old Wood Nature Trail
Daylight hours - Bunny Old Wood, Bunny Hill off the A60 Loughborough Road
The trail starts at the main entrance and includes 18 points of interest. Leaflets should be available on site, but certainly are available in advance by calling Nottinghamshire Wildlife Trust on 0115 958 8242.
Church Warsop Walk
10:00 BST at The Carrs car park off the A60 in Church Warsop
Mansfield InStep Walking Group will set off from The Carrs car park at Church Warsop for a two hour walk with the option of a shorter walk for anyone who requires it. Please call walk leader Phil on 07951 968366 for more information.
Hexgreave Hall Walk
Get walking with the Blidworth Walking Group from Farnsfield to Hexgreave Hall
10:00 BST at the Southwell Trail car park at Farnsfield
The walk will last about two hours going from Farnsfield to Hexgreave Hall & Deer Park where walkers will get the chance to see a herd of 200 deer. The countryside is beautiful and the walk is flat with a few manageable stiles. New walkers are very welcome and may wish to bring along a small snack and drink. The walk is also ideal for dog walking but please remember to bring water for your dog. For more information please call Linda Elliott at Blidworth Leisure Centre 01623 466266.
Nottinghamshire and Derbyshire Walking Group
08:00 BST on Maid Marian Way
There is a walk for people in their 20s and 30s, organised by a section of the Ramblers Association walking group for Nottingham and Derby. There will be two walks, one about 15 miles long, the other a more gentle nine miles long. The long walk involves several ascents and descents over high moorland, some stunning views (weather permitting), a pub, a walk through the village of Hebden Bridge, some reservoirs and dams, some woods and a nature reserve. The short walk comprises a similar offering except over a shorter distance. Either walk should be a stunning way to enjoy some of the best landscape of West Yorkshire. There is a meet point in Nottingham (outside the porta cabin at the South Nottingham College on Maid Marion Way) at 08:00 BST to organise car share. For more information please email Greg at walks@ndwg.co.uk.
For more information on general walking advice, health and safety information, please refer to the Ramblers Association website.