Radcliffe villagers attempt to read the Bible in a week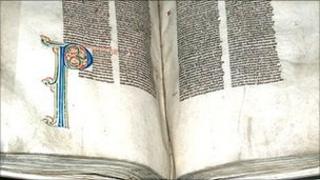 A group of Radcliffe-on-Trent parishioners are attempting to read the Bible in a week.
Four congregations have joined together to read the book and will start on 1 September.
Vicar of St Mary's, the Reverend Graeme Anderson, said the event was about the churches working together and sharing their belief in the "word of God".
The marathon reading is part of their commemorations of the 400th anniversary of the King James Bible in the village.
The 66 books of the Bible comprise 1,189 chapters and more than 31,000 verses.
To make the feat possible the book will not be read chronologically and will sometimes be read at several venues at the same time.
Christine Marquina, chair of Christians Together in Radcliffe, said: "There will be outdoor reading, reading in the pub, at coffee mornings, anywhere we can.
"One of our aims has been to include as many people from the village as possible," she said.
During the week there will be an exhibition, 'Telling the Story' of the King James Bible, on display at The Grange, where some of the readings will take place.