BMI test labels 3st Nottinghamshire boy overweight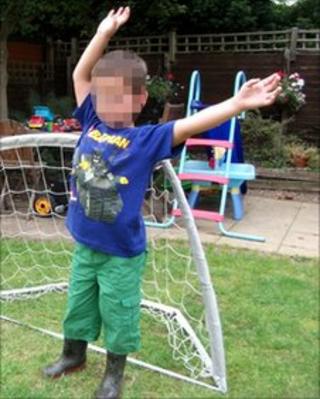 The parents of a five-year-old boy from Nottinghamshire who weighs 3st 5lb (21.3kg) have been sent an NHS letter saying their son is overweight.
The letter referred to his Body Mass Index which was calculated after his height (3ft 7in or 1.1m) and weight were recorded at school in February.
His mother said she was angry as her son walked to and from school, played football, and had a balanced diet.
NHS Nottinghamshire said BMI was used to measure obesity.
It said it wanted to make sure children were fit and active.
The letter sent by the school's health visitors before the summer break said his BMI result placed him in the overweight range for his age.
His mother said: "I was absolutely furious because our son is not overweight at all.
"He's a very healthy child who at a very young age has now been marked as overweight."
'Healthy appearance'
She said information enclosed with the letter said if a child is very athletic the BMI result may be raised.
"It's obviously what's happened in our case, we've got a very athletic child," said the parent.
"I don't understand why when the person takes the measurements they can't indicate whether this child genuinely has a healthy appearance."
The mother added the programme needed "completely reviewing".
Chris Kenny, the director of public health at NHS Nottinghamshire, defended the BMI programme.
He said: "Obesity is on the rise in this country and what this weight management programme is designed to do is to raise the issue with parents.
"I wouldn't want this one particular case to undermine the whole programme."