Council to grow elephant grass as biofuel at Fiskerton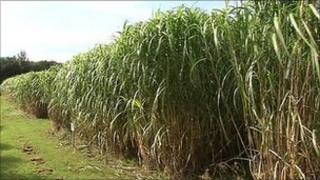 Growing elephant grass could generate £4,000 of revenue-per-year for Nottinghamshire County Council, the authority claims.
The crop, which grows up to 3m (10ft) high, can be made into a biofuel and sold to power stations.
The council said the pilot project at a former landfill site at Fiskerton is the first of its kind by a local authority.
Once established the first crop will be harvested in 2013.
If successful, the scheme could be rolled out to other sites that cannot be farmed for food, the council said.
Elephant grass is native to tropical and sub-tropical regions of Africa and South Asia.
It has shallow roots which means it does not penetrate waste within soil that is contaminated on brownfield sites.
Richard Butler, of the council, said: "Elephant grass has the highest energy-giving properties per hectare of any biofuel crop.
"It's an ideal way of transforming areas like the former landfill site at Fiskerton into income generators."
'Environmentally friendly'
Mr Butler said the crop's yield could be as high as 100 tonnes.
He added that some of the £4,000 generated will go towards the upkeep and pollution treatment at the newer part of the landfill site, nearby.
Biofuels are seen as a way of reducing greenhouse gas emissions.
"It's a very good use of brownfield land," said Guy Longbotham, who is growing the elephant grass for the council.
"The elephant grass plants absorb carbon dioxide and it provides a local environmentally friendly energy source."
The council received a grant from Natural England, towards the costs of planting and establishing the crop.