Nottingham pensioner fined £35 for 'upside down' badge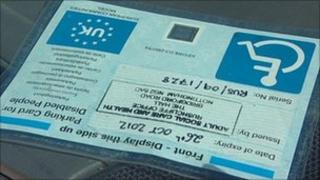 A disabled pensioner has been fined for displaying his blue badge upside down at a Nottinghamshire council car park.
Peter Knott, 76, who suffers from severe arthritis, was upset after he was fined £35 in West Bridgford.
"It is just so petty. You go out to do your shopping and park in a disabled space where you think you are fairly safe and you're not," Mr Knott said.
Rushcliffe Borough Council said the warden was correct to issue the ticket under the regulations.
"The rules are very clear, well publicised and prominent in the car park - blue badges must be displayed correctly," the council statement said.
Mr Knott said the blue badge was facing up with its details on display.
He has appealed against the fine and is waiting for a response.
"I can afford it without being in too much distress but there must be some pensioners who are very poor and £35 would be their shopping for a week," he said.
An online government guide for the blue badge said it must be visible and the information on it must be legible.
Chris Buck of the Disability Law Service said the decision to fine Mr Knott was "nonsense" adding the council must have misunderstood the regulations.