'Haunted' portrait in Your Paintings online archive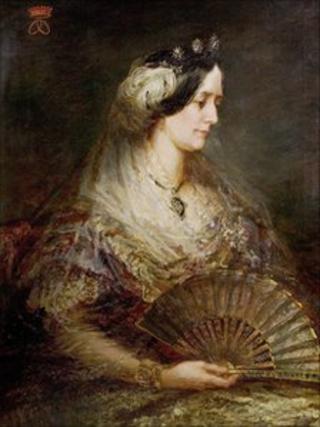 A portrait of Lady Ossington, said to be haunted by its subject, is one of 200,000 publicly-owned oil paintings being made available to view online, as part of a BBC campaign.
For nearly 100 years, it hung in the Ossington Coffee Palace in Newark, Nottinghamshire.
But when the establishment began to sell alcohol, some claim the ghost of Lady Ossington became offended and there were reports of the oil painting "flying off the wall".
The Victorian artwork is now kept in stores, like 80% of the oil paintings in the UK's national art collection, but can be seen and its story read, on the Your Paintings website.
Haunting history
Viscountess Ossington built the coffee palace on Beastmarket Hill in 1882 as a charitable concern.
Its aim was to provide a hostel where travellers could find accommodation for the night without the temptation of drink on the premises.
The Viscountess was to be its manager until her death and was to be succeeded by a group of trustees to maintain the building "in a crusade against the demon drink", according to its title deed.
But in the 1960s a court decided the trust was not a charitable institution as the hotel had always been run on commercial lines.
The heirs of Viscountess Ossington were traced as the true beneficiaries and the coffee palace was sold in 1978.
Shortly afterwards it became a public house.
It is then the portrait is said to have started to repeatedly "fly off the wall".
Newark and Sherwood District museum service purchased the artwork - believed to have been painted by a Miss Hawkins - at auction in 1981.
"It is a hefty piece which may be a more rational explanation for why it fell off walls," said the museum service's Kevin Winter.
The oil painting is kept in the district council's resource centre stores on Brunel Drive, one of 700 artworks in its collection, along with sculptures by Robert Kiddey, woodcuts from Sir William Nicholson and two prints by the internationally-acclaimed artist Bridgett Riley.
The Resource Centre is open to the public by appointment. To book a visit call 01636 655777 or e-mail museums@nsdc.info
Online archive
The UK has a national art collection of 200,000 oil paintings, held in a vast range of public institutions.
Though they are owned by UK publicly-funded organisations, 80% of the paintings are not on display, either hidden away in storage or in buildings the public cannot access.
Your Paintings brings together these artworks, with the stories behind them, and where they can be viewed.
The project is a partnership between the BBC and The Public Catalogue Foundation which has spent the last six years photographing and cataloguing the works of art.