Surveyors determine Nottinghamshire's highest point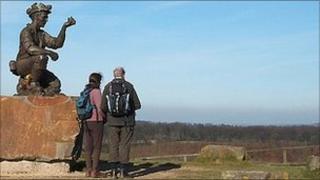 A team of amateur surveyors say they have settled a local dispute over Nottinghamshire's highest point.
Silverhill Wood was thought to be the highest spot in the county but three enthusiasts say a nearby lane is actually two feet higher.
John Barnard said measurements had not been done accurately because of the cost involved.
"There had been a lot of doubt in the past," he said.
In 2005 Nottinghamshire County Council declared the man-made mount of Silverhill Wood the highest point in the county when they unveiled a sculpture of a miner on the landscaped spoil heap.
Before that Strawberry Bank in Huthwaite had been thought of as the highest point at 203m (666ft) and a bench with a plaque marks the location.
But using surveying grade GPS technology Mr Barnard and fellow enthusiasts Graham Jackson and Myrddyn Phillips found nearby Newtonwood Lane beat Silverhill by 0.70m (2ft), standing at 205m (673ft) above sea level.
"When Nottinghamshire County Council surveyed Silverhill in 2005 it doesn't look as if anyone went and measured Newtonwood Lane," said Mr Barnard, 62.
"At the top of Silverhill you get a horizontal level and Newtonwood Lane looked so close we thought we had to have a look."
'A game'
The trio are part of a team of hill walking enthusiasts who run a hills database.
They have been spending their spare time over the past five years measuring hundreds of hills.
The team started collecting data after realising some of the data on maps was not accurate.
"Ordnance Survey maps get topography by taking high resolution photographs from planes. The precision is within three metres not centimetres as we do," said the retired chemist and businessman.
Mr Barnard is used to climbing the UK's mountains to do readings but said he was intrigued by the puzzle in Nottinghamshire, having regularly been contacted by local people asking for a definitive answer.
"It's a game, no more than that. It's a bit of science with a bit of fun," said the hill walker.
"You would hardly say that Newtonwood Lane is something that you would conquer."
The team approached Nottinghamshire County Council to ask if they wanted to do use the information but the council declined.
In a statement Nottinghamshire County Council said: "The council is not the official body that recognises the highest point in the county."
The hill surveyors have passed their data on to the Ordnance Survey.