Strawberry season 'earliest in living memory'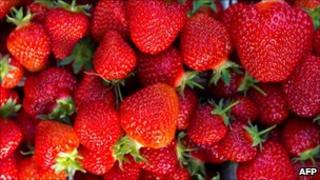 A Nottinghamshire farmer says his strawberry season started in April - the earliest in living memory.
Sir John Starkey, who runs a fruit farm near Southwell, said it was due to the warm weather that month.
He added as long as the summer was not too cold, the farm was set for a bumper crop.
Sir John said he hoped the crop would yield 10 tonnes of strawberries for each of his 50 acres.
It comes after Laurence Olins, chairman of British Summer Fruits, which represents growers, said that last year members had sent 400 tonnes of British strawberries to supermarkets.
"This week, we expect them to send four times that amount, which will be the largest amount ever for this time of year," he said.
Sir John is hoping for a warm June to keep the strawberries coming.
"In the good old days we were happy with three tonnes an acre," he said.
"We couldn't have had a better start to the season. What happens next is in the lap of the gods."