Inquest told restrained man died at private hospital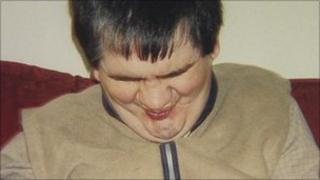 A 38-year-old man with learning disabilities died after being restrained at a private hospital in Nottinghamshire, an inquest has heard.
Derek Lovegrove died at Cedar Vale, an 18-bed hospital in East Bridgford, in July 2006.
Care worker Abrahal Kariam broke down in tears at the inquest in Nottingham as he described how the patient died in his room.
The jury inquest continues at the Nottingham Council House.
Mr Kariam said Mr Lovegrove, who was blind and partially deaf, could be unpredictable.
Pulled to floor
He said Mr Lovegrove grabbed a person in the corridor without warning on the day of his death.
The care worker said that after the incident he took Mr Lovegrove to his room where he thought the patient was about to hug him - but instead he was pulled to the floor.
He called a colleague and the two of them restrained Mr Lovegrove holding him by the arms.
They called a nurse and tried to resuscitate Mr Lovegrove but he died at the scene.
The care worker told the inquest jury that it was five years ago and he could not remember all the details.
M Lovegrove's mother Linda Daley said her son, who spent several years at Rampton high security hospital in Nottinghamshire, was not happy at Cedar Vale.
She said her son, who was sectioned under the mental health act and was detained at the hospital, could have had better care at Rampton.
"I never wanted him to go there," she said, adding that not all of the staff were able to handle him.