Olympic torch relay to stop in Nottingham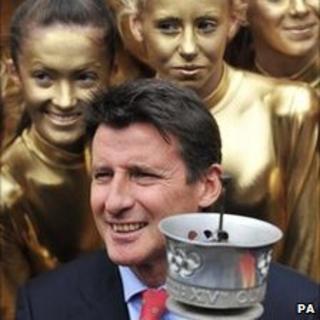 The 2012 Olympic torch relay will stop in Nottingham, it has been announced.
The torch will stop overnight in the city on 28 June 2012, with Nottingham City Council hosting an evening of celebration.
The torch relay will set off from Nottingham Castle the following morning.
The council said the celebrations would be part of a series of events in Nottingham to mark the Olympics and Paralympics in 2012.
Nottingham City Councillor David Trimble said: "It's a great honour for Nottingham to host an official Olympic celebration.
"We're very much looking forward to marking the Olympic year with not only this event, but a whole range of sporting and cultural events that will appeal to everyone."
Events planned by the council include a Games Day in the Old Market Square, when members of the public can have a go at Olympic sports.
Nottingham 2012
A 60m (196ft) running track will be installed in the city centre as part of a Street Racing day, where five to 19-year-olds will be invited to compete against the best sprinters in Nottingham.
And examples of ancient silk garments, accessories and textiles are being shown outside China for the first time as Nottingham Castle hosts the Living in Silk exhibition as part of the East Midlands' Cultural Olympiad, the council said.
The programme will end in September with the 2012 World Exhibition, which will showcase 1,000 young artists, aged 18 to 30, from across the globe and from all disciplines in Nottingham.
The exact route and runners of the Nottinghamshire leg of the 2012 relay have yet to be confirmed.
The Olympic flame is set to arrive in the UK from Greece on 18 May, 2012.
London 2012 chairman Lord Coe revealed it will leave Land's End, Cornwall, the following morning before travelling 8,000 miles (12,874 km) around the UK, taking in more than 70 stops.
Organisers say the route has been planned to ensure the torch comes within a one-hour journey for 95% of the population.
A nomination process will be used to pick 8,000 torch bearers.