Protesters call for reinstatement of Dr Rod Thornton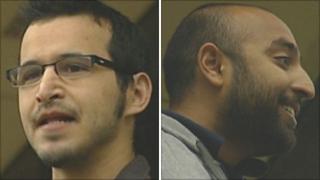 A protest has been held to support a lecturer who criticised Nottingham University's treatment of a student arrested by anti-terror police.
Dr Rod Thornton claims he was suspended for writing a paper alleging the university tried to discredit Rizwaan Sabir after his 2008 arrest.
Mr Sabir was questioned for downloading a book called The Al Qaeda Training Manual but released without charge.
More than 100 students gathered to call for Dr Thornton's reinstatement.
In May 2008, counter-terrorism officers arrested and questioned Mr Sabir along with Hicham Yezza, who worked as the principal school administrator at the university's School of Modern Languages.
Mr Sabir had downloaded the manual as part of his research for a dissertation and had sought Mr Yezza's help in drafting a PhD proposal because of his position as editor of a political magazine.
Six days later both men were released without charge.
'Frankly unacceptable'
In a paper prepared for the British International Studies Association (BISA), anti-terror expert Dr Thornton claimed the university later "refused to apologise to the men" and also began to "resort to defensive measures that attempted to discredit their names".
He also said the book, which was downloaded from the US Department of Justice website, was available from Nottingham University's own library.
The university has refused to confirm or deny whether the academic has been suspended.
On Thursday, both Mr Sabir and Mr Yezza addressed a gathering of students and a small number of staff outside the university's Hallward Library.
Mr Sabir said: "When we have very serious allegations of misconduct being made against this university management, we have the silencing of the individual that made those allegations.
"Rather than looking at that report and the research which has taken three meticulous years to produce, we have the management - who are sitting only yards from this location - ordering his suspension with immediate effect.
"At a university which is meant to be the beacon of tolerance, respect, dignity and rationality it is frankly unacceptable that this has happened.
"My advice to the university is give us a public inquiry and we can all go back to our lives."
A Nottingham University spokesman said: "Academic freedom is a cornerstone of this university and is guaranteed in employment terms under the university's statutes.
"That freedom is the freedom to question, to criticise, to put forward unpopular ideas and views - it is not the freedom to defame your co-workers and attempt to destroy their reputations as honest, fair and reasonable individuals."
The university said staff had legitimately alerted police because the manual was discovered on the computer of Mr Yezza - an administrative worker with "no academic reason to possess such a document".
It also said it had acted in an "ethical, transparent and fair manner" throughout.