Dry weather boosts Nottinghamshire asparagus crop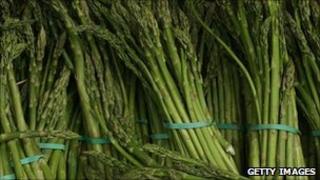 A Nottinghamshire asparagus grower says his crop has more than doubled thanks to the dry weather.
Richard Thomas, who farms in Blidworth, has picked the vegetable three weeks early, harvesting 50 tonnes to date, 30 tonnes more than normal.
It will only be profitable if the season finishes at the normal time in late June.
Mr Thomas hopes it will make up for his winter-affected sugar beet crop, which cost him £21,000.
"With the dry and sunny weather we've had [the asparagus] has just carried on growing," he said.
"I have a sneaky feeling it will run out of energy in early June rather than going right through to the third week in June."
The weather is providing mixed results for Nottinghamshire's farmers.
Earlier this year, John Hammond, from New Farm at Redhill, said the cold winter cost him £1m, after the snow and frost devastated his crop of leeks.
However, the warm spring has led to the biggest and best quality English strawberry crop in about two decades, growers say.