New theatre festival an 'investment' for Nottingham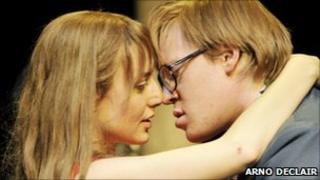 Organisers of a new arts festival predict it will bring employment and international visitors to Nottingham.
Nottingham European Arts and Theatre Festival (Neat11), starting on 26 May, will feature theatre, music, performance, film and visual art.
Artistic Director of Neat11, Giles Croft, said: "This sort of investment has real long term benefits."
The festival is supported by the Nottingham Playhouse and Nottingham City Council.
Mr Croft added Neat11 would allow Nottingham-based artists to showcase their work alongside international artists.
"The work enriches our lives, there's a lot of work for young people, for the disadvantaged, and a lot of tickets are free," added Mr Croft.
He said it was a coincidence that organisations were collaborating at a time when the Arts Council and the government were encouraging them to pool resources.
"It was something we were already talking about in the spirit of co-operation," said Mr Croft.
The Neat11 festival will showcase theatre including the Det Norske Teatret, Deutsches Theater and Theatre Nowy.
The festival has been funded by Arts Council England, Nottingham City Council and the European Theatre Convention.