Nottingham Blitz firefighter memorial boost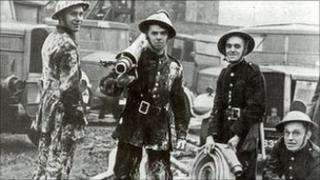 A group of former firefighters say they are confident of raising enough money for a memorial to those who died on duty during the 'Nottingham Blitz'.
Monday marks the 70th anniversary of the World War II air raid, which killed more than 200 people and injured more than 700 overnight on the 8 and 9 May.
Twelve were firefighters or civil defence personnel.
Donations to the Nottinghamshire Firefighters Memorial Fund have so far raised more than £5,500.
The planned granite tribute will cost between £15,000 and £20,000.
Former divisional fire officer David Needham said it was important these people were remembered.
"There are memorials to military personnel who gave their lives during the wars but there is currently no memorial to the civilian services in Nottinghamshire", he said.
"These people gave their lives protecting others on what was the front line at the time."
The memorial will honour the 37 members of the civil defence service killed on duty since 1940 to the present day.
Mr Needham said it would provide a focus for wreath laying on Remembrance Sunday and also on Firefighters Memorial Day on 11 September.
Barrage balloons
Nottingham was not hit as severely as Coventry, Manchester, Liverpool and London, but 8 May was different, Mr Needham said.
Protected by barrage balloons and anti-aircraft guns with searchlights, Nottingham tried to defend itself against more than 100 enemy aircraft, consisting of Hinkle He11's, Junkers and Dorniers.
They dropped 6,804 incendiary bombs and 424 high explosive bombs on the city alone.
The most badly affected areas were the south-east areas of the city, in Sneinton, Carlton, Colwick and West Bridgford.
More than 200 fire appliances were actively fighting fires within the city boundaries.
Eyewitnesses in Cotgrave said the city was aglow, with columns of black smoke rising into the sky.
"The names of those who died should be recorded in a public place where people can reflect upon the sacrifice they made in protecting lives, homes and businesses in our communities," said Mr Needham.
The retired firefighters hope the memorial would be in place in the city by November 2012.