Second phase of Nottinghamshire street light switch-off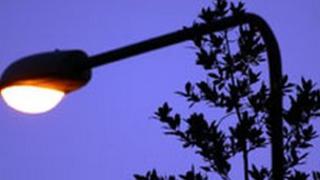 Work to switch off more than 1,200 street lights in Nottinghamshire between midnight and 0530 BST is due to get under way.
This week the county council will begin turning off 1,050 lights in Bingham and 207 in eight nearby villages.
It is the second phase of an energy-saving scheme which saw 200 street lights adjusted in March.
The authority plans to alter more than 90,000 lights across the county to save £1.25m a year in electricity costs.
The project involves turning off many street lights between midnight and 0530 BST in residential areas, dimming some on main roads between 2200 BST and 0700 BST, and switching some off entirely in remote areas.
Accident blackspots
Some residents have criticised the move, concerned it could lead to increased crime and more road accidents.
The council said some lights will not be altered, including those near hospitals, accident blackspots or areas with higher-than-average crime rates.
In the latest phase of work, all the lights in Flawborough, Granby, Hawksworth, Orston, Shelton, Sibthorpe and Thoroton (a total of 158) plus 49 of the 53 in Whatton and 1,050 of the 1,278 in Bingham will be turned off until 0530 BST.
Proposals for Aslockton, along with the comments from local people, are still being considered.
The project is expected to be completed by 2014.