Singer Frankie Martin completes 366-pub tour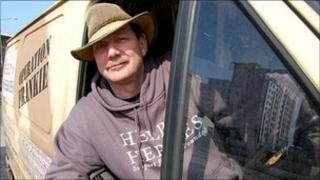 A Nottinghamshire singer has performed in 366 pubs in 366 days to raise money for a soldiers' charity.
Frankie Martin finished his last gig before a sell-out crowd at Kimberley Miners' Welfare club on Tuesday night.
The 51-year-old set out on 19 April 2010 hoping to raise £18,500 for Help for Heroes but ended up raising more than £140,000.
He said the tour had been a great experience and had "restored his faith in humanity".
The lounge and swing artist said he decided to take up the challenge after he sold his house, hit 50 and realised he had very few ties to hold him back.
"I simply took a year out of my professional calendar to work for nothing."
Frankie, whose real name is Ian Campbell, has covered almost 25,000 miles, playing public houses from Lands End to John O'Groats.
But the singer, who covers Frank Sinatra, Dean Martin and Nat King Cole said it was good to be home.
"It hasn't all been champagne and strawberries.
"There were times through the winter when it was -14C in the van and I was sleeping wrapped up in everything I could find.
"But it's been a wonderful experience. Everywhere I've gone it's people's simple human kindness that has kept me going," he said.
He said he was touched by two particular moments.
"When I was in Louth [Lincolnshire] this guy came back with a whisky bottle tube.
"He presented it to me and said 'I want you to have this'. It was full of coppers that he'd saved to give to his grandchildren to use at the arcades on holiday. It came to £15.25." he said.
"At the other extreme one guy gave me a cheque for £1,000 to ensure I went through the £100,000 barrier. Amazing."
Frankie spent his childhood travelling the world following his RAF father.
He suffered from hearing problems, and was often treated in forces hospitals, and he said the memory of wounded soldiers inspired his fundraising.
The singer said he will now return to performing on the professional circuit.
"This tour has taught me a lot. I've learnt how little you need in life. I believe as long as you've got food, shelter and a little bit of love you should count your blessings."