Ski cableway extended at National Watersports Centre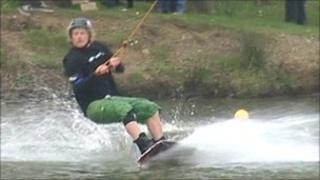 A £200,000 expansion of the water skiing facilities at the National Water Sports Centre in Nottingham has opened.
The cableway at the water ski tow centre at Holme Pierrepont has been extended by 168m (551ft) and new obstacles added.
The work was managed by Nottinghamshire County Council, which took over the sports centre in 2009.
Two straight 100m (328ft) cableways, which pull the skiers across the water, have been introduced for beginners.
County councillor John Cottee said the work would "enhance the national and international reputation of the National Water Sports Centre".
The main cableway will be able to accommodate 28 people at a time while the smaller runs can be used by 6 to 8 people in each session.
British wakeboard champion Keith Hooks said: "It is fantastic - a lot better than the set-up that used to be here. It has come a long way since I first started here five years ago."