Thousands vote to choose a flag for Nottinghamshire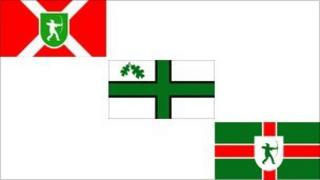 Thousands of people have voted to choose a new county flag for Nottinghamshire.
Three designs were created by a design panel which included Nottingham Contemporary's Alex Farquharson, graphic designers from Seismik, the National Ice Centre's Mich Stevenson and the Flag Institute's Michael Faul.
The two BBC Radio Nottingham listeners who started the campaign for an official flag were also on the panel.
The team ploughed through all the drawings, ideas and feedback sent to BBC Radio Nottingham to come up with the final designs.
The three options were put to an online vote which closed on 15 April.
The winning design, chosen by members of the public, will be announced in May.