Calls to protect 'rare' Roman Southwell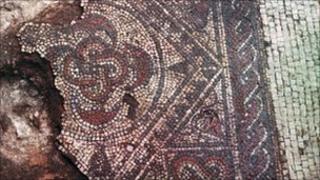 A university lecturer is calling for the rejection of a plan to build houses next to the site of a Roman settlement in Nottinghamshire.
Caunton Properties Ltd, who were unavailable for comment, want to create 29 homes on Church Street in Southwell.
Dr Will Bowden said the discovery of "rare" archaeological remains dating to the 7th or 8th Century made the site "wholly inappropriate" for development.
Newark and Sherwood District Council will consider the plan after 28 June.
The site is next to a scheduled monument - potentially one of the largest Roman villas in the UK, according to the University of Nottingham lecturer.
An investigation of the area the planning application covers found a Roman wall and archaeological remains.
'Incredibly rare'
English Heritage recommended that a substantial part of the redevelopment should remain as green space, with any remains preserved.
Dr Bowden and a number of academics, including the director of the Association for Roman Archaeology, Bryn Walters, and Revd Prof Martin Henig of Oxford University, said the English Heritage judgement does not go far enough.
"The discovery of remains, of probably Christian inhabitants, dating to the late 7th or 8th Century on the development site represents the period between the Roman villa and Minster," Dr Bowden said.
"Having this continual sequence of occupation - the villa, the burials and the Minster - is incredibly rare and arguably unique for a Roman villa in the UK."
He added: "There is something very unusual going on at Southwell, and it is potentially of a rarity that would make its partial excavation in a development context wholly inappropriate."
The academics have joined with several local history societies in an attempt to mobilise a mass campaign in support for keeping the remains in place.
Members of Southwell Town Council unanimously agreed to object to the plans and the council chairman Mr Roger Dobson called for residents to join the Save Roman Southwell campaign.
Campaigners would like to see the development site included in the town's central heritage area which includes the Minster, the Archbishop's palace and the villa itself.
"We can develop a strategy for researching and using the site to bring Roman Southwell to life for the citizens of Nottinghamshire," said Dr Bowden.