Cleric calls for Muslims to support Emmanuel House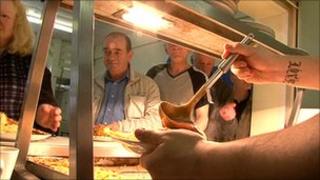 "The service would please every person who has love for humanity," said Nottingham Imam Dr Musharraf Hussain al-Azhari.
"It will absolutely please God, please Christ and please the Prophet Mohammed," he added.
Dr Hussain was speaking of the work done by Emmanuel House, a Christian-based day centre for the homeless and vulnerable.
The independent city centre charity lost £183,000 of core annual funding through city council cuts in April.
The centre costs £300,000 a year to run.
Dr Hussain and other Muslim leaders are encouraging Muslims to support the centre and are highlighting its plight in the city's mosques and via community radio station Radio Dawn.
This is the biggest local project Nottingham's Muslim community has been asked to support.
Traditionally its charities have sought to help Muslims abroad.
'Help and serve'
Few Muslims currently use the charity's facilities but Dr Hussain said the aims of Emmanuel House should be embraced by Christians and Muslims alike.
"For Muslims they have an obligation to help and serve such people," he said.
Emmanuel House is looking to tackle the funding deficit itself - through an appeal to churches, applying for grants and targeting businesses who could offer a sustained contribution over a three-year period.
So far it has raised £47,000 which the charity said should keep the day-centre open, with a reduced service, until the end of June.
Emmanuel House's Ruth Shelton said that the centre's woes had brought out the best in people.
"It's shown how much goodness there is in the community.
"Every day there comes an elderly lady with a jar of 2p pieces or a businessman brings in a cheque for £1,000.
"It's not just about the money. It's about the support and the affection Emmanuel House clearly has in the hearts of our supporters."
Funding 'pressure'
Emmanuel House opened in 1976 and has welcomed hundreds of people through its doors on Goosegate, Hockley.
"It's clear that the local community believe in what we do and want us to stay," added Ms Shelton.
In February Councillor Dave Liversidge, portfolio holder for adult services and health, said government cuts had put pressure on all funding.
"With this in mind we have assessed the service provided by Emmanuel House and don't believe the outcomes meet the level of funding we provide," he said.
"Services for rough sleepers and other homeless people have changed substantially over the past decade with a greater emphasis placed on prevention.
"As a result of the government cuts, we need to accelerate the restructuring of the services we provide for these vulnerable citizens."