Nottingham's tram extension preferred bidder is named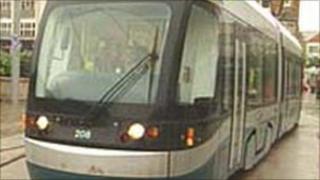 The preferred bidder to build the proposed extension to Nottingham's tram network has been announced.
Nottingham City Council confirmed it had selected Tramlink Nottingham to build two new lines and operate the extended tram network.
It also revealed the contract with the consortium currently operating the tram system, Arrow Connect, would be terminated.
The extension of the tram network was agreed by the government last week.
Construction of the two new lines, which will extend the tram system to Chilwell and Clifton, could begin by the end of the year.
It is hoped the 23-year concession contract will be awarded in late summer, subject to final negotiations.
Jane Todd, Nottingham City Council's Chief Executive, said: "We received two very strong bids but Tramlink Nottingham has come out on top.
"We look forward to working with them to develop their proposals before awarding the full contract."
Roger Harrison, Tramlink Nottingham chairman, said: "Building on Arrow's successful legacy, we are excited to be taking forward the next chapter in Nottingham's tram story.
"Our focus now will be on working with Nottingham City Council to ensure NET Phase Two can be introduced at the earliest opportunity.
NET Line One, the first part of the network, began operating in March 2004 and runs between Hucknall and Nottingham city centre with a spur to Phoenix Park, just off the M1 motorway.
NET Phase Two comprises two routes - Clifton via Wilford, known as Line Two, and Chilwell via Queens Medical Centre and Beeston, known as Line Three.
If construction begins this year the extended Nottingham Express Transit (NET) network could be fully operational by 2014.