2012 World Exhibition 'great for city'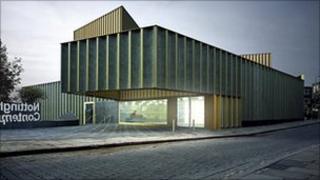 "It's a bit more than just a wonderful arts event. It's participatory and it will put Nottingham on the world stage," says Professor Terry Shave.
The head of visual arts at Nottingham Trent University was talking about the first global exhibition of young artists, coming to the city in September 2012.
This weekend, he is hosting 64 delegates from all over the world, highlighting what Nottingham has to offer ahead of the event.
The 2012 World Exhibition will showcase 1,000 young artists, aged 18 to 30, from across the globe and from all disciplines.
"Artists that practise visual arts, performance, poetry, music and even gastronomy (the art and science of good eating)," said Prof Shave.
Its programme will include high-profile exhibitions, installations and performances in Nottingham.
The Market Square will be the centrepiece of the show, with a temporary structure providing a hub for artists and visitors.
The event will stretch across many of the city's cultural venues and spaces - Nottingham Contemporary, the Broadway Cinema, the New Art Exchange, Nottingham Castle and the Royal Centre.
But will also involve smaller community venues such as the Crocus Gallery in Lenton.
"It will be great for the city," said Prof Shave. "Everybody is going to be part of it."
The 2012 World Exhibition will celebrate the end of the Olympics, as part of the Cultural Olympiad.
Organisers expect it to bring thousands of visitors to Nottingham over the event's duration.
The bid to host the event was given the green light in September 2009.
It involved Nottingham City Council in partnership with the Arts Council England East Midlands and Nottingham Trent University.
The leader of Nottingham City Council, Councillor John Collins, said: "This is fantastic news for Nottingham.
"As well as promoting the finest in young international art, we hope it will also create opportunities for our own young people to actively participate in this once-in-lifetime opportunity."
Laura Dyer, of the Arts Council England East Midlands, added: "I hope this will this will offer us the opportunity to showcase our vibrant arts scene and fantastic cultural buildings on an international stage."
The 2012 World Exhibition will take place from 7-15 September 2012.