Woodpeckers 'adding to decline of honey bees'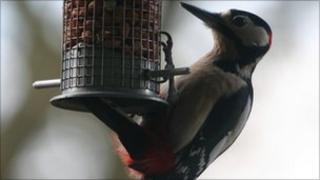 Woodpeckers have been adding to the honey bee's decline in Nottinghamshire, say the county's beekeepers.
The beekeepers say the hard winter has forced woodpeckers to find food in apiaries, where beehives are kept.
Nottinghamshire beekeepers discovered the birds were boring through hives to feed on lava grubs and even the bees themselves.
The UN recently warned that the threat to the honey bee was now a global phenomenon.
The reasons range from declines in flowering plants to the use of damaging insecticides and the worldwide spread of pests and air pollution.
Without the honey bee scientists have said there would be a worldwide food shortage.
In the UK, many beekeepers have reported the loss of hives due to low temperatures during the winter.
The cold meant woodpeckers could not find food as freely as in previous milder winters.
"Last year was a particularly savage winter," said Alison Knox, from the Nottinghamshire Beekeepers' Association.
"So the woodpeckers, bless them, were driven to resort to what they could get."
Mrs Knox added it was beekeepers using "out-apiaries", where bees are kept at a location away from their homes, who were reporting the problem.
"They wouldn't see [the bees] from one week to the next and by the time they had got back to the hives the woodpeckers had done the damage," said Mrs Knox.
She said the woodpeckers could easily be dissauded by hanging CDs from the apiaries.
"Birds don't tend to like shiny silvery things that move," said Mrs Knox.