Margaret Humphreys on Oranges and Sunshine film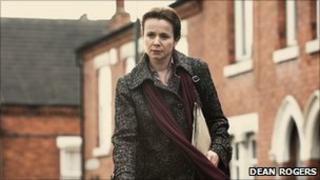 The social worker who uncovered the child migrants scandal in the 1980s has been speaking about the film of her life, Oranges and Sunshine.
Margaret Humphreys, 66, brought to public attention the UK's role in sending children to former colonies, including Australia and Canada.
She attended the gala screening at the Broadway Cinema, in Nottingham, and while "transfixed" by the film she admitted it was also hard to revisit that period of her life.
"We were working against all the odds," said Mrs Humphreys.
"There was a lot of denial around, people didn't believe this had happened to the children.
"It was hard going back to those times. It was difficult, I've had to move on. You have to bury that and move on."
Mrs Humphreys' story began in 1986, when a woman told her that she had been taken from a children's home in Nottingham and sent to Australia by boat, aged four, during the 1950s.
The woman added that there were hundreds like her.
Mrs Humphreys, who was working as a social worker for Nottinghamshire County Council, embarked on a mission to reunite them with their families.
The title of the film comes from the promise to the children of oranges and sunshine - but the reality was hard labour and life in institutions.
In February 2010, Prime Minister Gordon Brown apologised to the thousands of British children sent overseas in the 1950s.
The apology came during filming in Australia.
Incredible woman
The film's director Jim Loach, son of Ken Loach, said Mrs Humphreys was an "incredible" woman.
He came to Nottingham to speak to her after reading her book, Empty Cradles.
"We sat down and drank a lot of tea," said Mr Loach.
"I found her story completely compelling. I was gobsmacked by it, I couldn't believe it had happened.
"The more we spoke it became clear to me that it was film I wanted to make."
However, Ms Humphreys revealed she took a long time to be convinced that it was a good idea.
"[It was] rather daunting," said Mrs Humphreys.
"Jim [Loach] was very persistent and very strong in his wish to make the film.
"I think he'd say that eventually he persuaded me that it would be a very good and positive thing to do."
The conversations that took place between Mrs Humphreys and Mr Loach happened a few years before the Australian and UK Governments made public apologies for the scandal.
Mrs Humphreys said, in some respects, agreeing to the film was "another method to raise the awareness".
Oranges and Sunshine opens at UK cinemas on 1 April.