Police stations in Bingham, Warsop and Wollaton to shut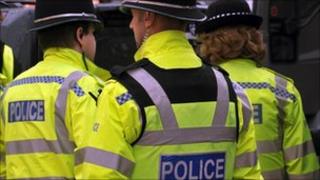 Nottinghamshire Police Authority has revealed plans to save money by closing three police stations in the county.
The Nottinghamshire Police Estates Review has recommended closing Bingham, Warsop and Wollaton stations plus nine police contact points.
Neighbourhood officers at the 12 sites would be relocated to council premises or shops, the police authority said.
The closures would save £260,000 in running costs and raise £1.2m from the sale of the buildings.
The police contact points affected are North Leverton, Bilsthorpe, East Leake, Misterton, Hickling Court, Barrowhill Walk, Shireoaks Court, William Kaye Hall in Mansfield and Radcliffe-on-Trent.
'Hardly used'
The police authority said the review showed some stations and contact points were poorly used and expensive to maintain.
In January four people visited Bingham police station, one person visited East Leake and Misterton was unused by the public.
Chairman of the authority Jon Collins said: "The reality is we have too many police buildings, many are hardly used by the public and we will save a substantial amount by closing them.
"However, we are absolutely not moving out of communities."
"We believe that the public want us to use our budget to preserve police officer numbers - not maintaining buildings.
'We are concerned'
"The aim of the plan is to keep officers where people want them, in local communities, while reducing running costs significantly.
Gordon Sanders, chairman of Bingham Neighbourhood Watch, said: "We are aware of these plans and as a Neighbourhood Watch we are concerned.
"At the moment we are just waiting to see how this develops and where they are planning to re-site the police officers."
The police authority has said no stations or contact points will close until alternatives are in place.