Protest disrupts Nottingham City Council budget meeting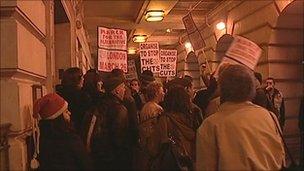 A budget meeting at Nottingham City Council has been disrupted by a group of protesters.
Opponents heckled from the public gallery of the Council House and the meeting had to be suspended for more than an hour.
Police were called and more than 10 protesters were escorted from the building. The meeting resumed, with the public excluded, at about 1700 GMT.
Councillors are considering making the biggest cuts in its history.
In December, the Labour-run council announced it was facing a loss of £29.5m in central funding for 2011/12.
Council leader Jon Collins said the cutbacks amounted to a reduction of £60m in real spending power.
Deficit reduction 'priority'
He had predicted more than 1,000 jobs may go in the next three years because of government spending cuts.
The city council employs about 4,000 non-teaching staff, and the predicted job losses would mean it is likely to lose more than a third of its workforce over the next four years.
A spokesman for the Department for Communities and Local Government said: "The government has delivered a tough but fair settlement ensuring the most vulnerable communities were protected.
"If councils share back-office services, join forces to procure, cut out the non-jobs and root out the overspends, then they can protect frontline services.
"Driving down the nation's deficit is the government's biggest priority but we have made sure that extra money, powers and funding freedoms are available to protect frontline services and the public from council tax rises, offering real help to hard-working families and pensioners."
Related Internet Links
The BBC is not responsible for the content of external sites.