Museum auctions celebrity socks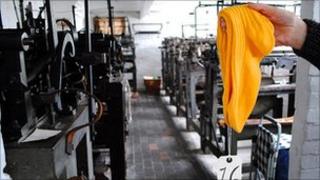 Twenty-six items of celebrity legwear are to go under the hammer to raise funds for a Nottinghamshire museum.
The garments, which include Bond girl Gemma Arterton's leopard-skin tights, are being sold at auction in Derbyshire on Friday and Saturday.
Ruddington Framework Knitters Museum trustee Audrey Winkler, who proposed the idea, said: "We have no idea how much we'll raise."
The garments were originally donated to the museum for an exhibition in 2010.
Ms Winkler said she thought it was a fun way to raise money and show that not all museums are "stuffy institutions".
Ms Winkler spent a year writing letters to the famous and was delighted with the response.
"The first pair that I received was very special," she said.
"I had written to Andy Murray at Wimbledon. I didn't think I was going to get a reply and then suddenly appeared a pair of socks with a signed photo and the message: 'These are my socks'."
The museum also received socks worn by designer Paul Smith, film director Michael Winner, actors Maureen Lipman and Richard Wilson and singer Marti Pellow.
Ms Winkler said the fundraiser was inspired by Queen Victoria's stockings, which were bought at auction for £8,000 in 2008 and donated to the museum.
The trustee said the museum was doing well despite "hard economic times" but was always looking for interesting fundraising ideas.
"The money will help some of our activities during the year but we are mindful that in the current financial climate an independent museum like ours needs some reserves," she said.
The collection goes under the hammer at Charles Hanson auctioneers.
"They can't estimate what we shall get. We're just keeping our fingers crossed," said Ms Winkler.