Police forces unite to reduce poaching in rural areas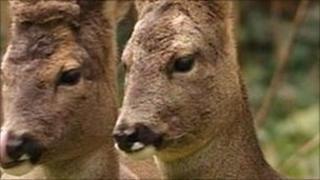 Police in Nottinghamshire and Derbyshire have joined forces to halt a rise in crime against farmers and landowners.
Officers have been sharing information and resources and gathering intelligence in rural areas.
Crimes on the increase include machinery and fuel theft, deer poaching and land and crop damage.
The operation is being carried out in partnership with British Transport Police which investigates cable thefts.
Worksop beat manager Pc Jason Crofts said: "Poaching is big business and it's on the increase, particularly with the deer herds in the area - we are no longer talking about a couple of rabbits for the pot.
"Farmers and land owners are also suffering fuel thefts from diesel tanks and vehicles, thefts of farm machinery, metals and pumps as well as damage to land and crops by vehicles.
"What is often seen just as off-roading is very often someone scouting for potential easy targets."