Newark rail cable thieves jailed for three years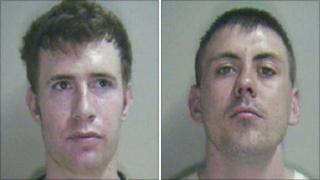 Two Newark men have been jailed for three years each for stealing 25 metres of railway cable.
Damien Kelham, 25, of Castle Gate, and Billy Mitchell, 28, of Montgomery Road, both admitted taking the cable near Crankley Point in Newark on 8 October 2010.
Nottingham Crown Court heard the theft cost £75,000 in damage and delays - while the copper cable fetched £44.
The judge said the sentence should deter others from causing such damage.
The theft caused 36 trains to be fully or partially cancelled and 115 to be delayed.
Mitchell and Kelham were tracked down by police dogs and arrested on a track some distance away from the scene.
Insp Granville Sellers, from British Transport Police (BTP), said: "We welcome the sentence, it is a deterrent sentence, and I am hopeful it will put people off committing this type of offence.
"I hope they realise stealing cable off the railway is just not worth the consequences."
Richard Lungmuss, route director for Network Rail, added: "It also cost the industry huge amounts through compensation payments and replacement costs - money which we cannot then spend on improving the network.
"I am pleased this is being taken seriously by the BTP and the courts."