Images of Nottingham knifepoint robber released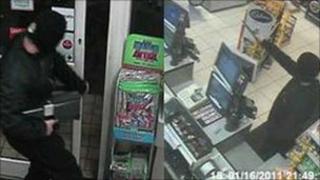 Police in Nottingham have released CCTV images of a man who carried out two knifepoint robberies in the space of an hour.
The robber stole money from the Co-op store in Wilford on 16 January. Fifty minutes later he took cash from a Co-op petrol station in Mapperley.
He wore a distinctive black balaclava with a white logo, black clothing and white trainers.
Anyone who can help identify the man should contact police.
The robber stole £38 from the Wilford Lane store at 2100 GMT, and took £200 from the petrol station on Woodborough Road.