Ratcliffe-on-Soar campaigners' cases reviewed by CPS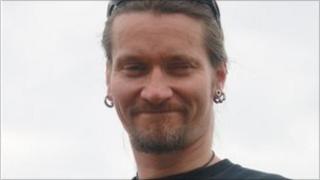 The cases of 20 environmental activists convicted of plotting to shut down Ratcliffe-on-Soar power station are to be reviewed, the BBC has learned.
The campaigners were found guilty of conspiring to commit aggravated trespass at the Nottinghamshire site.
Director of Public Prosecutions Keir Starmer has appointed a senior barrister to review the cases.
A linked trial collapsed earlier this month after an undercover police officer offered to help the defence.
The BBC's home affairs correspondent Danny Shaw said Mr Starmer's decision was highly unusual and suggested there might be grounds for questioning the safety of the convictions.
Fourteen male and six female campaigners were given a mixture of community orders and conditional discharges at Nottingham Crown Court earlier this month, after being found guilty of plotting to disrupt the supply to the power station.
The court heard they were among more than 100 people arrested during a raid in Sneinton, Nottingham, in April 2009.
The trial of a further six defendants accused of being involved collapsed when undercover officer Pc Mark Kennedy, who had infiltrated the campaigners, offered to testify for the defence.
Bolstered defence
After the offer, the defence team asked prosecutors to disclose full details of his activities - prompting the Crown Prosecution Service (CPS) to drop the case.
Mr Kennedy has since said he believes tape recordings secretly made by him were withheld for fear they would destroy the prosecution argument.
Lawyers for the convicted activists have said they believe the tapes should have been disclosed to them before the trial as they might have bolstered their defence.
One of the 20 convicted, 36-year-old Ben Stewart from London, said he believed there had been a miscarriage of justice.
He said: "It's a fact that it was the tape that led to the trial of the other six collapsing.
"This tape we know would go to the very heart of the case, and would have helped the jury. We think the CPS should release the tape, we think there has been a miscarriage of justice and we are very curious to know why the tape was suppressed."
The campaigners have said that closing the power station was necessary to reduce climate change.
After the case collapsed, the CPS said it would conduct a "thorough" review of the case "as quickly as possible".
The Independent Police Complaints Commission (IPCC) is to examine whether Nottinghamshire Police gave all relevant material to prosecutors.