Hucknall sub-station fire treated as arson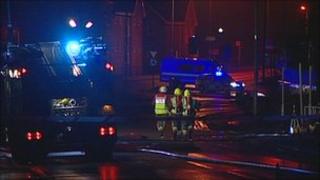 A fire which damaged a sub-station in Nottingham and prompted the evacuation of nearby houses is being treated as arson.
An explosion and subsequent blaze at the facility in Bolsover Road, Hucknall, on 12 January caused a blackout at hundreds of properties.
Several roads were closed and tram services were disrupted.
Officers have confirmed the fire was started deliberately and have appealed for witnesses to come forward.
Detective Constable Louise Foster said: "As a result of a detailed forensic examination we now believe this fire was caused deliberately.
"I would appeal to anyone who was in the Bolsover Street and Station Street area between 7pm and 8pm to cast their minds back to see if they can remember anyone acting suspiciously and any associated vehicles."
No one was injured in the incident.