Water firm apologises over sewage in Chilwell garden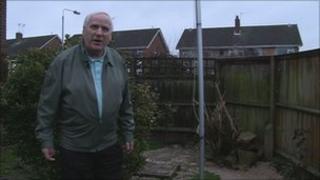 Severn Trent Water has apologised after a Nottinghamshire householder was left for days with inches of raw sewage in his garden.
Paul Williams' driveway and garden at Chilwell were covered last week.
Contractors finally cleared the area on Wednesday. The company said it had been exceptionally busy and promised to investigate the cause.
But Mr Williams said he was fed up with the problem, which he said had happened before.
He said: "I feel badly let down. This has got far worse here than it's ever done before, (with) the manholes, we want the road excavating and properly doing to stop this happening. We've had it enough times in our time here."
In a statement, Severn Trent Water apologised for the delay in getting to the customer's home to clear the blockage and said future investigations would include putting a CCTV camera down into the sewer, in an attempt to establish the cause in order to find a longer term solution.