Nottinghamshire council unveils light switch-off plans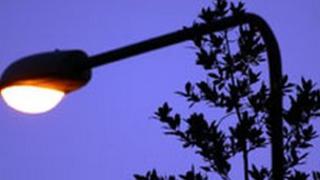 Nottinghamshire County Council has unveiled details of its plans to switch off some street lights at night.
The Conservative-run council estimated the changes would save about £1.25m and cut carbon emissions.
The plans involve turning many street lights off between midnight and 0530 GMT in residential areas and switching some off in remote areas.
Lights near hospitals, accident black spots and areas with higher than average crime rates will be unaffected.
'Careful monitoring'
The council said many street lights would be dimmed on main roads between 2200 GMT and 0700 GMT.
Work will begin in the villages of East Markham, Hoveringham, Scarrington, Hockerton and Flintham.
Residents will have until 11 February to comment on specific lights.
A risk assessment is being done for every light and the most appropriate option introduced for each town, village, suburb or road, the council said.
Campaigners have said the authority's money-saving move could lead to increased crime and more road accidents.
Councillor Richard Jackson, cabinet member for transport and highways, said: "Through our Big Budget Conversation, many Nottinghamshire residents have welcomed this project and several parish councils had already expressed an interest in having lights in their areas altered.
"Where this work has been carried out in other parts of the country, collisions and crime have not increased but we will continue to light crime and accident black spots and monitor the project carefully."
The project should be complete across the county by 2014, the council said.