Pet cat found 'cut in half' near Mansfield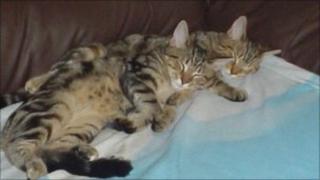 The owner of a cat which died after apparently being cut in half said he was "devastated" by his pet's death.
William McCubbin, of Rainworth in Nottinghamshire, was asked to identify the body of his cat Milo after the pet went missing in December.
Only the top part of Milo's body was found by a member of the public who took it to a local vet.
An RSPCA spokesman said it was not yet clear if the cat was cut in two deliberately.
Mr McCubbin said his vet told him the injuries were not caused by another animal or a car accident.
'Shocking case'
The two-year-old tabby cat's body was found by a member of public behind a petrol station on Kirklington Road, Rainworth, on 21 December.
Mr McCubbin said: "We are absolutely devastated by what has happened, and we now just want to warn people about this, and of course hope that we can find whoever is responsible.
"We have been told by a vet that there is no way this could have been caused by a car accident, or another animal, but why anyone would do this deliberately we just don't know. We are all just so upset about this."
RSPCA inspector Keith Ellis said: "If someone has done this deliberately then this is a shocking case of animal cruelty and we will do all we can to try to bring the offender to justice."
Anyone found guilty of causing unnecessary suffering to an animal can face a maximum six-month prison sentence or a £20,000 fine.