Ratcliffe climate protest police raid questioned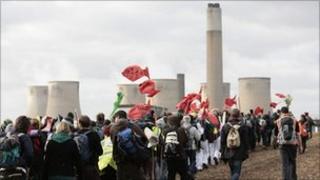 A police raid to stop climate protesters who planned to shut a power station was "on the edge" of legality, according to a policing expert.
More than 100 activists planning to protest at Ratcliffe-on-Soar power station were arrested by police in a raid on a Nottingham school in April 2009.
About 200 officers took part in the operation at Iona School in Sneinton.
On Wednesday, 18 people were given non-custodial sentences for conspiracy to commit aggravated trespass at the power station, which is owned by the company E.On.
But Dr Clifford Stott, a policing tactics expert from the University of Liverpool, believes the use of a pre-emptive raid raised serious questions.
He said: "Clearly the police were in their rights to intervene but we also need to bear in mind that at that point of intervention, there had been no breaches of the law.
"There were only people engaging in peaceful protest and peaceful protest is protected under the European Convention on Human Rights and to prevent peaceful protest is, in itself, illegal.
"So it really is on the edge of that borderline between what's legal and what isn't, and who was in the right and who was in the wrong."
'Difficult job'
But he added the police had an obligation to protect a crucial piece of the nation's infrastructure.
"This is the challenge of the situation for the police. But just because it is a difficult job does not justify them taking away our legal right to engage in peaceful protest.
"And it is really where that transition (from peaceful to illegal protest) occurs that we understand the proportionality of police action."
The cost of the policing operation is estimated at more than £300,000, with the court case generating a £400,000 bill.
One of the convicted protesters, 32-year-old Chris Kitchen, from Brightlingsea in Essex, said: "We're part of a growing global movement for climate justice and it's not our decision how much the police spend on trying to stop us.
"What we want to stop is companies like E.On making these enormous profits."
'Risk and harm'
Immediately after the sentencing, Det Supt Adrian Pearson, who led the investigation, said: "We will facilitate peaceful protest.
"Unfortunately there are a number of people willing to go to extreme lengths to get their point across, damaging property, trespassing on private land and potentially endangering the lives of others."
Assistant Chief Constable Ian Ackerley added: "The scale of any policing operation is based upon the threat, risk and harm, which may be caused to the public we serve.
"Whether an operation costs £100 or £100,000 our objective, to protect the public and minimise disruption, will remain the same.
"In this case, had the activists been successful in their plans, they would have forced entry to the power station, and caused significant disruption to the public."
During the trial at Nottingham Crown Court, the protesters admitted planning to close down the plant but claimed this was justified by the harm its operation did the planet.
But the prosecution claimed direct action was planned "because it was a great deal more fun, or because they did not have tickets to Glastonbury".
Passing sentence, Judge Jonathan Teare said the defendants had acted with "the highest possible motives".