Ratcliffe-on-Soar power station protesters sentenced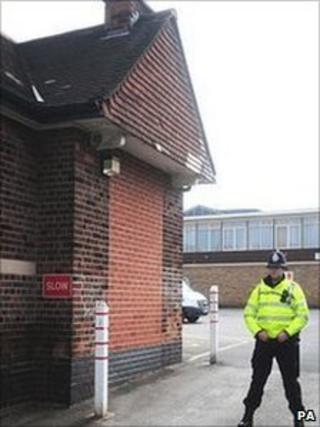 A group of climate campaigners who planned to shut a major power station have been given community orders.
Eighteen of 20 people who were found guilty of conspiracy to commit aggravated trespass last month were sentenced at Nottingham Crown Court.
The jury heard they planned to close Ratcliffe-on-Soar power station.
Police said the pre-emptive operation which led to the arrests cost more than £300,000, while the prosecution said the case cost about £400,000.
About 200 police officers arrested 114 protesters in a raid on at the Iona School in Sneinton, Nottingham, in April 2009.
Judge Jonathan Teare, who commended the group for their personal commitment to the environmental cause, sentenced the group to a mixture of community orders and conditional discharges.
Prosecutor Felicity Gerry submitted to the judge an application for each defendant to pay costs of £5,000 which, she told the court, was a reduction of the rough figure of the £20,000 it cost per defendant to bring the case to court.
'Decent men and women'
But Judge Teare ordered only two of the defendants to pay costs totalling £1,500 because many were on a low income or were claiming benefits.
He praised the commitment of the protesters to environmental causes and said they received "glowing references" from peers or professionals, adding: "If I may select some of the adjectives that recur throughout, they are these: honest, sincere, conscientious, intelligent, committed, dedicated, caring.
"You are all decent men and women with a genuine concern for others, and in particular for the survival of planet Earth in something resembling its present form.
"There was substantial material before them that closure of the power station would not only stop the emission of carbon into the atmosphere, but also provide a huge publicity stage for your ambitions.
"I join with the jury's verdict, having heard the evidence, that this was at least an equal aim of your intention to stop emissions.
"It is sad to reflect that this very expensive criminal trial has probably more than fulfilled your ambitions for publicity."
Speaking outside court protester Chris Kitchen, 32, of Dean Street, Brightlingsea, in Essex said they intended to carry on with their efforts to publicise climate change issues.
"Clearly we still have a lot of convincing to do.
"There's been a dip in public perceptions of climate change, really what I think we have to bear in mind is there's some powerful vested interests trying to affect the debate on climate change."
Det Supt Adrian Pearson, who led the investigation, said: "We will facilitate peaceful protest. Unfortunately there are a number of people willing to go to extreme lengths to get their point across, damaging property, trespassing on private land and potentially endangering the lives of others.
"This was a significant operation which cost the force in excess of £300,000.
"We will continue to work with partner agencies to keep people safe and ensure everyone is able to go about their business without fear of a minority's determination to disrupt them."
A spokesperson for the Crown Prosecution Service East Midlands Complex Casework Unit said: "Cost is not a factor in deciding whether there is sufficient evidence for a case to go ahead, nor is it a public interest factor against a prosecution."
"The evidence in this case was reviewed by an experienced senior lawyer who determined that there was sufficient evidence of conspiracy to commit aggravated trespass, and due to the nature of the offences, it was in the public interest to ask a jury to determine whether these individuals were guilty or not.
"The jury has vindicated that decision with their guilty verdicts."