Tesco submits plan for £40m Nottingham store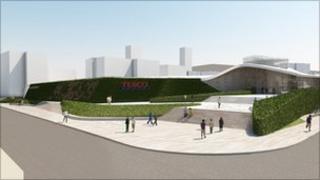 Supermarket giant Tesco has submitted its plans for a new £40m superstore on the edge of Nottingham city centre.
The huge store would be built to the east of the city centre in the Eastside Regeneration Zone known as the Island Site.
Nottingham City Council has already voiced its concerns that the store could threaten traders in the city centre and in Sneinton.
However Tesco said the project would create up to 500 jobs.
The company has chosen architects Mangera Yvars to design the 90,000 sq ft store.
The plans include a multi-storey car park, cafe, offices and a community centre.
Tesco spokesman Tony Fletcher said: "It has generally been acknowledged that Nottingham would benefit from a large food store.
"Nottingham Eastside has been widely billed as a development that will bring forward high quality residential and commercial design."