Nottinghamshire travel faces ice disruption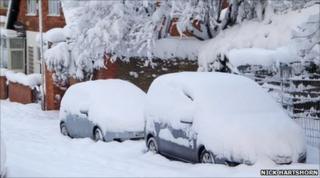 Police have said driving conditions in Nottinghamshire are likely to remain difficult during the weekend due to freezing weather.
While less snow was forecast, temperatures were predicted to fall as low as -7C (19F) with thick fog.
Highways officials have said they have enough grit for main routes, but untreated roads may be problematic.
Police said most drivers had been sensible during the cold spell and travelled only when necessary.
On Friday more than 300 schools were shut, with rail services affected and some East Midlands Trains' services cancelled or operating on a revised timetable.
Trains between Mansfield Woodhouse and Worksop were cancelled.
Snow and ice caused problems on the A57 at Worksop but main routes were mostly running well.
School events cancelled
A police spokesman said: "Those people who are making road journeys are driving sensibly and paying close attention to the conditions. As a result, most of the eleven collisions were minor and thankfully no-one was seriously injured.
"All the major arterial routes through the county are open, but we would urge people who are planning to set out to drive with great care."
Many of Nottingham's buses have also been disrupted. Details are available on Nottingham City Transport's website.
However, East Midlands Airport has operated normally despite the weather conditions.
A series of performance art events due to be attended by hundreds of school pupils on Saturday have been cancelled.
Nottinghamshire charity bikers had to cancel this weekend's traditional toy run because of the weather.
But they plan to meet at the Fox Inn at Kelham next Sunday and ride in convoy to the Salvation Army in Newark.