Nottinghamshire police consider senior redundancies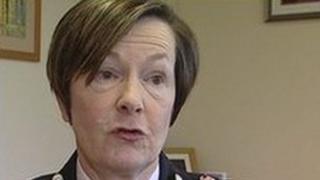 Nottinghamshire police are considering compulsory retirement for officers with 30 years' service or more, as part of their cost-cutting agenda.
The force has sent proposals to the police authority which will be debated further on 15 December.
The proposals also include voluntary and compulsory redundancies of other police staff.
The force will find out in December exactly how much it will receive in government funding.
More collaboration
Chief Constable Julia Hodson said she was also looking at changes to the custody provision, vehicle fleet, IT systems and the force's finance, resource and business services.
The Nottinghamshire force is also looking at opportunities to provide services in collaboration with other forces and partner agencies.
Ms Hodson said: "Today's paper to the police authority is part of our consultation with stakeholders, staff associations and unions.
"I will give members the time to fully consider all the options before a more detailed paper is presented on 15 December."
She added that the force expected a reduction in police officer and police staff numbers.