Family seeks answers after mystery illness kills pets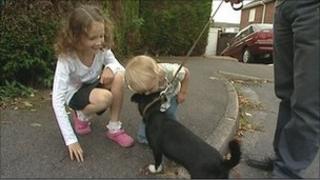 Dog owner Sherry Fearn is passionate about her pets and determined to get to the bottom of the mystery surrounding the death of her three-year-old dog Bracken.
He died after a walk in Sherwood Forest a year ago along with their pet ferret and another dog owned by a friend.
They still do not know why the animals died.
A total of eight dogs died in the autumn of 2009 and two more in September this year after walks in the forest in north Nottinghamshire.
Dogs have also been reported falling ill after walking in the Sandringham estate in Norfolk.
'Heartbreaking'
Tests by Natural England showed the dogs in Nottinghamshire did not die from a pesticide or man-made poison, but the exact cause is still a mystery.
Mrs Fearn said: "It is quite distressing. We never had closure last year after we lost our healthy three-year-old dog.
"To hear it is happening again almost a year to the day is quite heartbreaking."
Her husband Adrian said: "I don't want anyone else to go through what my family has had to go through."
Lincoln dog owner Derek Broughton was walking in Clumber Park in Sherwood Forest with his pet Cavalier King Charles spaniel Bertie and two other dogs on 21 September.
Less than two days later his dog Bertie was dead.
"We went for a walk on Sunday and he was fine but when I came down on Monday morning the dog was asleep - but the floor was covered with vomit and diarrhoea - it was disgusting," he said.
Three of the dogs on the walk fell ill and were taken to the vet, but two of them survived.
"I think someone needs to get to the bottom of it. Defra (Department of Environment, Food and Agriculture) should take a look at it.
"There is so much money spent on pets - it would be good to get a handle on it. To get proper warnings out you need to know," Mr Broughton added.
Blue green algae
Janice Dickson, a vet in Rainworth near Sherwood Forest, said she had seen nine dogs in the last two weeks with similar symptoms.
She also wants to get some answers and has asked the Animal Health Trust to investigate.
The trust has agreed to carry out tests if vets send them some blood and tissue samples from dogs that have died.
Ms Dickson has also arranged for the Environment Agency to test water samples collected from several locations in the Sherwood Forest area.
The agency will test for blue-green algae - another possible substance that might have caused the deaths.
The algae is a powerful toxin and a level of only 20 parts per billion in water can kill some animals, Ms Dickson said.
But Sherry Fearn, whose dog died last year, is not convinced and thinks crop spraying may be the culprit.
"We saw no sign of standing water last year and perhaps it could be mushroom or fungi but to have so many dogs affected in so many different areas I think it is quite unlikely," she said.
She said other animals such as rabbits and squirrels had also died in the area around the same time.
The Environment Agency tests are expected to be completed by the start of October.