Nottingham City Council apology over unpaid bills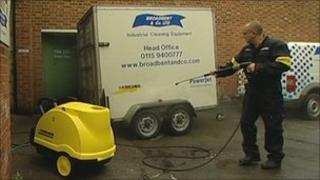 A Nottingham cleaning company has claimed it is owed thousands of pounds in unpaid bills by the city council.
Broadbent and Co Ltd, based in Colwick, supplies and services industrial cleaning equipment.
The company said they have invoices from up to a year ago which are still outstanding.
Nottingham City Council said problems with a new system had led to payments being delayed but said it was doing everything to settle outstanding bills.
'Teething problems'
Managing director, Tony Broadbent, said: "The council owes us in the region of about £10,000 going back over a 12-month period.
"It's vital to our business to get this money in and flowing around the system.
"I have suppliers to pay, I have staff to pay - we employ about a dozen people - we simply cannot operate without cash coming into the business."
A spokesman for Nottingham City Council said: "We have put a new system in place to reduce the costs of administering payments by £300,000 a year, which largely is proving successful.
"But we have had some teething problems that have meant some delayed payments.
"We're fully aware how this can impact on businesses and will always do everything we can to ensure prompt payments.
"Broadbent and Co have received some payments from us recently but there are a number of outstanding invoices, which have now been processed and payments should arrive shortly.
"We apologise to Broadbent and Co for the unfortunate delay in these payments and will do all we can to ensure this doesn't happen again."