Dog owners in Nottinghamshire warned about illness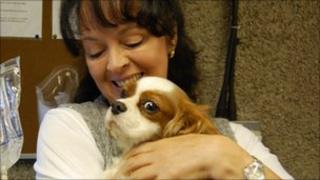 A Nottinghamshire vet is warning dog owners to be vigilant after treating a number of animals for severe sickness and diarrhoea.
Janice Dixon, from McPherson and Partners vets in Rainworth, said she had treated eight dogs in the past week with "horrendous" symptoms.
Ms Dixon added all the dogs had been walked in or around Sherwood Forest in the 24 hours before becoming ill.
In the autumn of 2009, eight dogs died in similar circumstances.
Again, all the dogs became ill after being walked on land near Sherwood Forest.
Natural England investigated four cases, ruling out common pesticides and further tests found no artificial poisons.
Ms Dixon said she believed whatever was making the dogs ill was naturally occurring.
"All the dogs are presenting to us having been in or near the woods in the previous 24 hours," she said.
"They have horrendous diarrhoea and vomiting and have been put on IV drips.
"I think this is something naturally occurring in the forest at this time of year because exactly the same thing happened last year, just for a month and then it stopped.
"It starts in September, there is more humidity and less daylight and a change in the flora and fauna. I think it could be a mushroom or fungus causing the illness," she added.
A Natural England spokeswoman said they would not be investigating the cases this year as previous tests concluded the cause was not a man-made poison. "It is not poison or pesticide-related, so we have taken the decision not to investigate as we believe it is naturally occurring."
Signs warning dog owners to keep their pets on a lead and to contact a vet if they become ill are being put up in the area, a spokesperson from the Forestry Commission said.