Olympic champion opens new school in Nottingham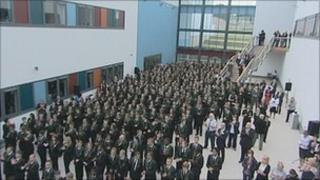 A new school which cost £24m to build has been opened in Nottingham by Olympic champion Kelly Holmes.
Nottingham University Samworth Academy (NUSA) in Bilborough is one of the UK's first to have direct sponsorship and academic links with a university.
For the past year it has operated on the site formerly occupied by the William Sharp School.
A delay in traffic meant Dame Kelly was slightly late for the opening but was still able to cut the ribbon.
She said: "I was determined to be here."
Some 650 pupils have moved in, to be taught in state-of-the-art facilities, but the government-funded complex will eventually house about 950.
This academy is sponsored by Nottingham University and Sir David Samworth, who sponsors two other academies in the East Midlands.
He said: "If you can give the young people a good start in life it gives them everything.
"And if we're to make a real impression on crime, lives, if we're to do anything about drugs, if we're to do anything about a lot of the problems facing the country, it's got to start with the education system."