Firms to have say on A453 dual carriageway plan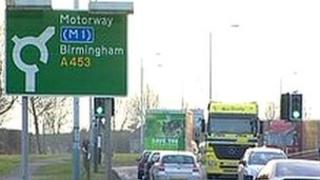 Firms which want a main route widened have been asked to provide evidence of how their business would benefit.
The government has shelved plans to turn the A453 between Nottingham and the M1 in Leicestershire into a dual carriageway.
The Derbyshire and Nottinghamshire Chamber of Commerce say widening the road would benefit the region's economy by more than £320m.
Their findings will then be presented to the Transport Secretary.
The widening of the A453 has been discussed for more than a decade.
Plans to widen the road were deferred earlier this year as part of the government's spending review, designed to save £6.2bn in the next year.
'Transport priority'
The Derbyshire and Nottinghamshire Chamber of Commerce said the project must be treated as a priority as congestion has a serious financial impact.
George Cowcher, chief executive of the Derbyshire and Nottinghamshire Chamber, said: "The widening of the A453 is the region's key transport priority.
"This project will play a crucial role in promoting economic growth across and helping businesses to create jobs in the East Midlands over the next decade.
"Despite the ongoing pressures on the public finances, the chamber believes that the economic benefits that this project will bring will far outstrip the cost to implement it.
"Our stated aim is to take the campaign to get the A453 widened to the very highest level."