Thousands attend Headstock festival at Newstead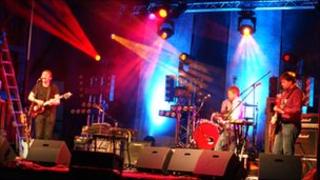 Thousands of people have turned up at a new music festival in Nottinghamshire that aims to help revive a former coal-mining community.
Headstock Festival, near Newstead, used £120,000 from the Big Lottery Fund to run the outdoor music show.
Nottingham duo Inland Knights performed at the dance tent having recently returned from South Africa.
The main stage was opened by Newstead Brass Band - the original Newstead colliery band.
Frightened Rabbit
Festival organiser Mark Waterhouse said: "I think it is vital that we have created an opportunity to make a big difference to our community - we need to give it a damn good shot," he said.
"I see it as a lifelong project for this village."
Irish punk-pop band Ash, ska veterans The Beat and rising stars Frightened Rabbit and Field Music were also on the bill.
Volunteers from the community helped run the successful free festival Treefest at the same location near Newstead for the past 10 years.
A sustainable eco-build visitor centre complete with classrooms and workshop space will be created on the site and ponds at the former mining community will be turned into angling lakes.
The festival featured three stages and two dance areas, with a dedicated children's area, Kidstock, for kite and jewellery making, puppet shows, drum and laughter workshops, face painting and story telling.
The festival is named after the structure used to transport miners up and down a mining shaft.
All the proceeds from the festival will go into projects in the village.
The BBC hosted the BBC Introducing stage and the village's story will be featured on a BBC1 programme next year.