Payout after Nottingham doctor fails to diagnose tumour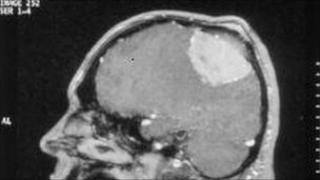 A former clergyman left disabled after a delay in diagnosing a brain tumour has received undisclosed substantial damages from a Nottingham hospital.
Adrian Underwood, 42, from Selly Oak, Birmingham, had moved to Nottingham to further his theological studies.
He began to suffer weaknesses on his left side and severe headaches and was referred by his GP to Nottingham's Queen's Medical Centre in July 2000.
Mr Underwood was told by a consultant he was suffering from migraines.
'Large lemon'
But when his health and vision worsened, he referred himself to the Birmingham Eye Hospital in December 2004, where doctors found a tumour the size of a large lemon.
Mr Underwood then underwent emergency surgery at the Queen Elizabeth Hospital in Birmingham during which the tumour and part of his skull were removed.
He then developed an infection and suffered a seizure which has permanently reduced his mobility.
His solicitor, Guy Forster, said had his tumour been treated in 2001 it was likely he would have made a full recovery.
'Fundamental failure'
"Due to the fundamental failure by the consultant to review the findings of the CT scan, the tumour went undiagnosed for four years, wrecking Adrian's ambitions and putting huge stress and strain on his loved ones.
"Despite the fact that a brain tumour had been identified, it seems that Mr Underwood's records were subsequently filed and he was not made aware of the growth on his brain", he said.
"We urge the trust to explain what changes have been made to procedures in order to safeguard patient safety and ensure lessons are learned, not just at this hospital but in the wider NHS."
In a statement, Dr Stephen Fowlie, medical director at Nottingham University Hospitals NHS Trust, said: "I wish to reiterate the hospital's apologies to Mr Underwood and his family for shortcomings in the care he received in 2000.
"The delay in diagnosis and treatment of Mr Underwood's condition should not have occurred.
"We appreciate the distress and anxiety we have caused Mr Underwood and his family. We hope that the compensation agreed will provide Mr Underwood some security for his future."