Nottingham patient death 'might have been prevented'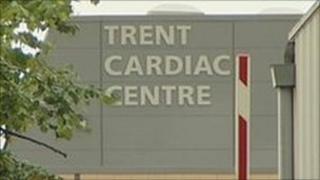 A probe into a series of heart patient deaths at a hospital has shown someone might have been saved if a pattern of infections had been spotted earlier.
Eleven heart patients who had surgery at Nottingham City Hospital were infected between January and July 2009, five of whom died.
Dr Stephen Fowlie from Nottingham University Hospitals NHS Trust said an internal probe had been carried out.
He said better communication might have stopped three patients being infected.
One of those patients, who has not been identified by the hospital, later died.
'Major controls'
The patients were infected after undergoing heart valve surgery at the hospital's Trent Cardiac Centre.
Dr Fowlie, medical director for the trust, said: "We undertook an extensive investigation advised by external experts to look carefully for lessons that we could learn from this very unusual outbreak of linked cases.
"The investigation report describes that if the links between the patients had been made at the earliest possible time, three cases might have been avoided."
He said the hospital had now improved "the way in which laboratories liaise with each other and in which results about patients are shared".
Dr Fowlie said: "There have been no cases of the infection since the hospital introduced major controls. Antibiotics had been changed and the surgeon stopped operating more than a year ago."
An inquest into the deaths is expected to be held in November.