'Good progress made' at Nottingham's HMP Whatton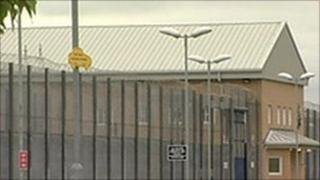 Inspectors say "commendable progress" has been made at a Nottingham prison which houses male sex offenders.
The short inspection at HMP Whatton follows concerns raised about aspects of its work such as resettlement.
In 2008, it was the scene of the sexually-motivated murder of a 28-year-old by his cellmate.
However, HM Inspectorate of Prisons was happy with cell-sharing risk assessments and said the jail was "much closer" to meeting inmates' needs.
Neil Wilkinson, 29, received a life sentence for murder in 2009 after he admitted smothering cellmate Stephen Hartley with a pillow.
Speaking afterwards, Mr Hartley's family said no-one should have been allowed to share a cell with the Wilkinson because he was a "dangerous person".
The matter is now in the hands of the Prison and Probation Ombudsman, which is compiling a report into the attack.
Education opportunities
Inspectors who visited the prison at the end of March said the cell-sharing arrangements were "very good".
They also praised work done to improve public protection, prisoners' activities and opportunities for work or education.
Nigel Newcomen, deputy chief inspector of prisons, said: "There remained some weaknesses - in particular the lack of sufficient offending behaviour programmes, and the need for more appropriate and better-allocated work.
"But overall the progress made at Whatton since the last inspection is impressive and, we hope, will continue."
The inspectors' visit follows concerns raised at a previous inspection in 2007.
HMP Whatton, which had about 800 inmates, is a Category C prison holding sex offenders who may be close to release.